Increasing sales on depop can be hard to understand especially for new and experienced depop sellers. We are writing this post to help you sell more on you Depop Shop. You can Increase sales on depop through several of the methods/tips outlined. Feel free to do all or just some, we always try to give sellers as much information that helps them succeed and make more sales on depop. Here are some tips to increase sales that we will cover and expand on in detail:
Engage more on Depop! Don't be a ghost
Depop is not just a reselling app it is pretty social as well, engagement breeds engagement! By interacting with people on depop you know they will receive a notification which will draw their attention to your shop. Just think about it, if you where to follow 0 people and are followed by 0 people you are basically stuck in a world on 1 person. The only way to increase those numbers is to engage! Follow people, Like products and comment on other depop products to grow your depop business!
Targeted Engagement
If you want to increase sales on depop, understand that engagement alone on depop won't be enough. Not all engagement is made equal on depop! You need to put some thought into targeting specific categories of people on depop for your engagement. Logically the people that make the most sense to target are
People that follow you ! – whenever you have a new item or a deal it helps to message some of your depop followers to let them know about it. A message will draw their attention to your shop ! In most cases your followers should already be interested in what you've got to offer.
People who have liked products – you can increase sales on depop by targeting people who have either liked any of your products or any other products listed on depop. The key here is to find one's that are of similar styles or even better find people who have liked products on depop that compliment the product you are selling!
People who have bought something from you previously – it's a lot easier to get someone you already know likes your stuff to buy again than to find someone for the very first time. Don't be afraid to reach out to people that have already bought stuff from you on depop.
These are just some ideas, you can get as creative as possible with your targeting on Depop.
You can automate a lot of the engement process by using a depop bot or hiring someone online to do the work for you.
Refresh Your Listings on Depop!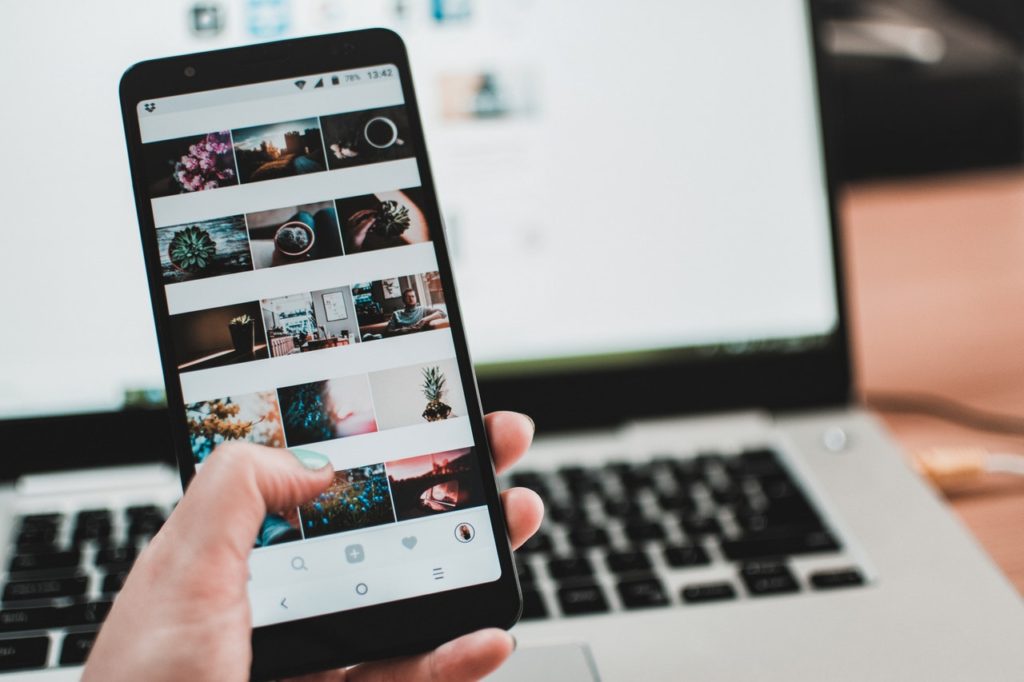 Refreshing listings is a method implemented by Depop that allows users to bump their products to the top of depop search for what ever search term you have. We wrote about this in-depth in this article. The gist is that refreshing your listings is the golden rule of increasing sales on depop! It quite literally bumps your products to the top of search and puts it in front of prospective buyers ! As a result this is one of depop's strongest features available for increasing your sales.
Post more products on depop
This specific piece of advice is all about increasing your odds to make more sales on depop. You have to post more products, by casting your net wide you increase the chances of people stumbling across your profile and looking further into what else you are selling. This does not mean that you should post products you don't intend on selling. Also, it does not mean you should post products on depop that are subpar. The best way to increase your inventory on depop on the low is to go thrifting. Looking for hidden treasures in thrift shops is a quick way to get more high quality and fashionable items to sell on depop.
Delete & Relist your products
If you are super low on cash and mobility to go thrifting, all hope isn't lost. You can always relist your items.
The principle here is similar to refreshing/bumping your products on depop but it isn't exactly the same. When you completely relist a product on depop you create a new listing, and delete the old one. This newly created listing is no different from listing a completely new product.
So if you don't have the money to invest in a whole lot of new inventory this is something to consider!
Of course the downside is that you should be deleting the old listing and all likes on it will be gone! which is why we recommend only doing this on items that haven't sold in a while.
Relisting can also be beneficial even if you can afford to source items consistently.
Customize your Bio
Many sellers often ignore a simple way to increase your sales on depop. Your depop bio should be incredibly clear and welcoming to potential buyers! Are you willing to negotiate ? Where do you ship to ? these are only some of the thoughts running through a potential buyers mind on depop ! If you want to increase your sales on depop you NEED to have a clear bio as many people only do a quick scan before deciding whether to click onto someone else or not!
Take GOOD Pictures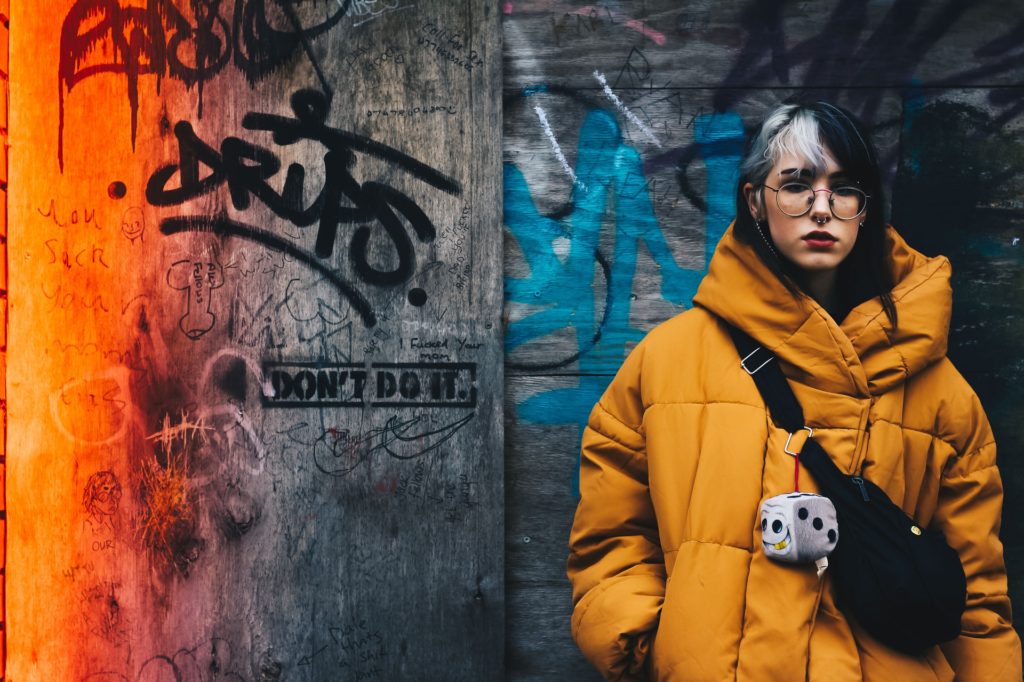 Your depop store may be getting RUINED by ugly pictures. An ugly picture is poorly lit, poorly framed and does not complement to clothing. What do you want your buyer to feel when they where your product ? vintage ? flowery ? Now ask yourself ! do your images convey this aesthetic? if not you need to take better photos. Take photos in good light, with the best possible camera you can. Even the lowest end phone cameras can work if you have decent light. A picture is worth a thousand words, this is so true on depop. As we mentioned previously, most people will only quickly scan your depop shop, you have a few seconds to stand out, MAKE IT COUNT in order to make more sales on depop !
Use a decent camera
We get it! top of the line cameras are expensive, but you don't need any of that to take a listing photo that gets you more sales on depop. Most smartphone cameras will be good enough, the trick is to extract as much performance from the camera as possible. The best way to do this is to ensure that the lighting conditions are great before taking a photo. Another way is to make sure the lens of the camera is clean beforehand.
Have some modelled listings
Flat lay photos are easier but we recommend at least trying to model a few items in order to see how they affect your sales. If modelling increases your depop sales then stick with it.
Modelling is hard, many sellers feel that there is a certain "depop look" and if you don't have it, it can be discouraging. You'll be happy to know that depop sellers come in all shapes/sizes/colours, so we urge you to give it a shot. Some sellers have understandable privacy concerns with self modelling, you can always protect your privacy by removing your face from your product photos.
If you still feel iffy (no pun intended), Then you can consider asking a friend to help you or contracting a modeling agency.
Showcase the good (and the bad)
Your photos are meant to be your first chance to make an impression on a potential buyer, so if there is something about a specific item that you think is unique make sure it stands out. However, you need to also make sure that if a product is not 100% flawless you come clean about that in the photos (and description, more on that later)
Let the potential buyer know the truth so they can decide if a specific defect is something they are willing to deal with. If you don't do this then expect to receive bad reviews and disputes.
This impacts your "trustability" as a seller, bad reviews will do the opposite of making you more sales on depop. To be there for your customers you need to be clear.
Consider adding videos
An underutilized feature on depop is listing videos. Think about the biggest social platforms you know, what type of media is a driving force for the growth of that platform?
The answer is the video content! We all love video because it gets us to really feel a sense of presence.
You can increase your sales on depop by simply adding videos to your listings. Videos are a lot more effort but think about it for a second:
Imagine you found a wonderful stuffed animal on depop for your little cousin's birthday, but the images don't really let you know what the texture or even the scale of the item is. Wouldn't you LOVE to see a video of the item so you could inspect before purchase?
The relevance of video is even more important when your item has elements to it that could be misinterpreted.
It is smaller or larger than expected (Especially relevant for non-clothing items on depop)
It has a texture that looks like one thing but is really another (E.g fake leather goods)
If you want to take great videos for your depop shop you need to take a few things into account:
Size matters: Consider the scale of your item or include other items that help potential buyers imagine the scale
Think of the intended buyer: You need to let the creative direction of your videos on depop be solely driven by the potential buyers. If you are selling y2k items what type of video would a person into that type of fashion find appealing.
Don't overcomplicate it: Remember that the item has to be the center of the video, you don't need to be creating netflix worthy documentaries to make a useful video.
Optimize your listing description
In order to make more sales on depop you need to take a look at your product descriptions. Depop has a rather peculiar approach with having no listing titles at all! So this means your descriptions are really important.
Bad descriptions = NO Sales on Depop
Good descriptions = MORE Sales on Depop
Use Keywords
From our experience, it is best to make sure that the first line of your description matches or includes the keyword you are trying to "Rank" for in depop's search feed.
You should also include relevant details like any defects on the product etc.
When writing descriptions, try to be concise but thorough. Use keywords and descriptive language to make your items more searchable and attractive to potential buyers.
Keep it objective, ask yourself what a buyer is most likely to search for, and make sure you chose words based on that. Include anything that you'd want to have included if you were the one buying.
One useful trick you can use here is to check the sold items of your competitors, you can check this by going into their profile and looking at the sold listings that are similar to the items you sell. This can help you figure out some ideas to create the perfect listing on depop.
Use the "Enhance Your Listing" section
Depop allows you to fill out additional qualities of your listing such as the colour, source, age and style. This is something that depop uses to help recommend products to potential buyers in search. You can increase sales on depop by taking the time to fill this out whenever you create a new listing. It's such a low effort thing to do with pretty good returns. Here is what the enhance listing section looks like on the depop website: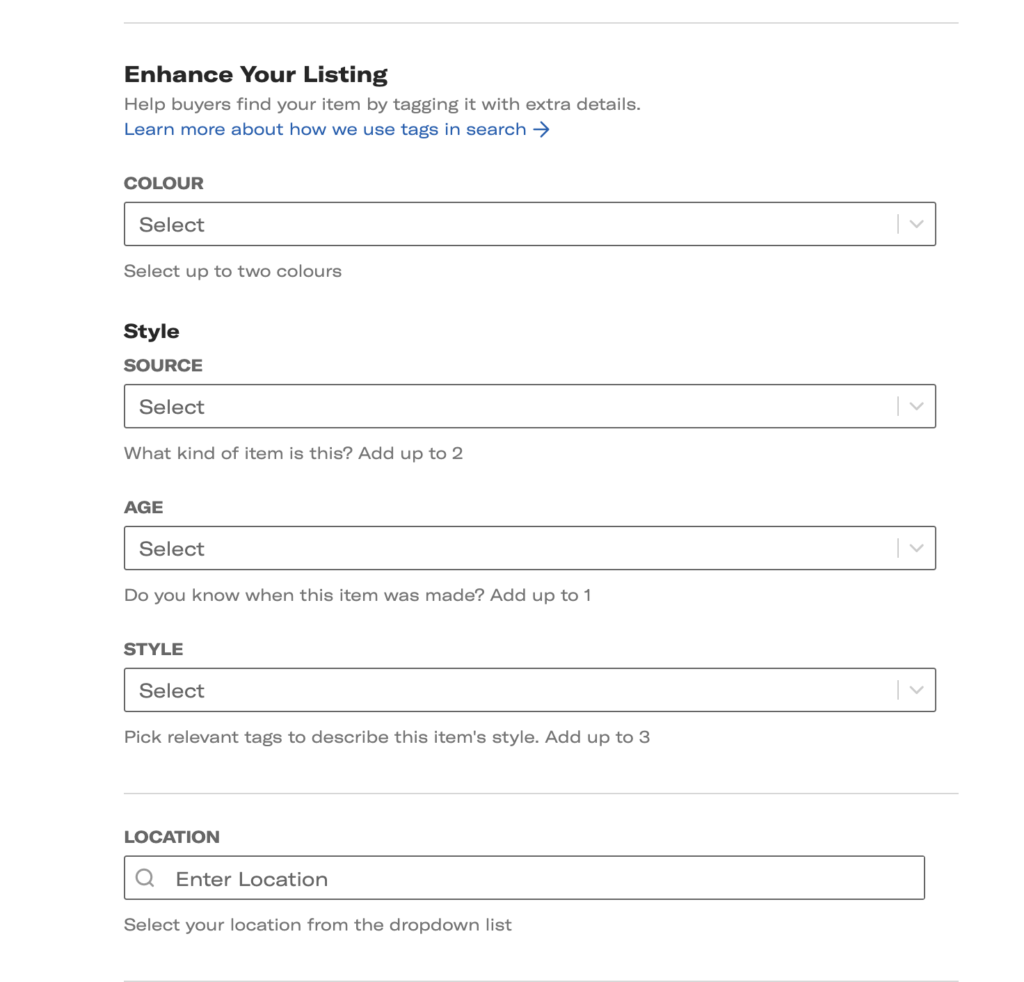 Make Sure the Price Is Attractive!
The price of what you are selling is an important factor in any marketplace, depop is no different. If you plan on making any sales on the platform it is super important to research similar items on the platform and price your items competitively to attract potential buyers. One simple strategy for finding the best price is by using the search function on Depop to look for similar items and see what they're selling for.
In order to get an idea of the price ranges you are working with you can sort by price on depop and keep a note of the prices of the top-ranking listings. This technique is good for finding out the highest and lowest you should be going on a specific item! You don't want to be that person selling a vintage jacket for way too much or way too little! (We all know these sellers!)
It might be super tempting to just list as low as possible and undercut other businesses but if you plan on building a brand and making good money you need to take into account other things.
Pricing can also depend on factors such as the rarity, condition, and popularity of the item.
When pricing your items, be honest and transparent about the condition and quality of the item. If an item is damaged or has signs of wear, consider pricing it lower to reflect the condition. You can also consider offering bundle deals or discounts to encourage customers to purchase multiple items. We will expand on this later.
Choose the right shipping price
We've written about this topic in detail in our depop shipping guide here. In order to make more sales on depop you need to factor in the shipping. It's common knowledge that many buyers like free shipping, while this does not work for everyone if you are looking to increase your sales on depop this is something that is worth experimenting with.
To offer free shipping, you can include the shipping cost in the item price and set your listing on depop to free shipping. Additionally, you can add a statement in your depop bio that will offer free shipping based on the amount purchased! As an example, you could offer free shipping on all orders over $20. This can encourage customers to purchase multiple items to meet the minimum order amount and take advantage of the free shipping offer.
Even without free shipping you should make sure that you are not charging shipping prices that are too high as this is likely to deter buyers. You can easily calculate how much you will make with different shipping prices using our free depop fees calculator
Utilize Bundles on Depop
Offering bundles can be a great way to increase sales on Depop. Bundles help incentive potential buyers to buy more items from your shop due to the potential savings that they can gain from doing so. When customers buy multiple items from your shop, you can offer a discount to encourage them to make the purchase. For example, if someone is interested in buying two or more items, you can offer them a bundle deal such as 5% off the total purchase price. This can incentivize customers to purchase multiple items from your shop, increasing your overall sales.
You can set up bundles either by creating a bundle discount on depop or buy creating a new listing with the bundled items and "reserving" it for a specific buyer.
To make the most of bundle deals, consider offering discounts on items that complement each other or are part of a similar theme or collection. For example, if you sell vintage clothing, you could offer a bundle deal on dresses, skirts, and blouses from a certain era or style. This can help you sell more items while also providing customers with a curated shopping experience.
Learn more about bundles in our depop bundles guide
Get on Instagram! (Or any Social Media Really)
Depop targets young people, many of which have Instagram accounts. Using relevant hashtags on instagram and curating your instagram theme to match the aesthetic of your depop shop will help you increase sales on depop. An instagram account is an amazing way to drive traffic to your depop shop. Posting beautiful photos on instagram can lead to people asking more questions about where you got your clothes!
Side note: the depop social team is active on instagram as well so there is definitely a chance of you being featured.
Instagram is very popular with resellers but it is not the only app out there!
Promote your depop shop on these social media sites:
Tik Tok
Youtube
Pinterest
It's no coincidence that many of the top depop sellers also have a strong social following as well! They use social media strategically to get more views to their shops.
When promoting your shop on social media, try to create engaging content that showcases your items and provides value to your followers. Here is some type of content you can create.
styling tips,
Behind-the-scenes shots such as packaging videos, thrifting vlogs.
Sneak peeks of newly sourced products.
You can also use social media to build relationships with your customers (and potential customers) by engaging with them through comments, DMs, and stories. There's no doubt that if you do this you can build a loyal following, a loyal following will boost your chances of making sales.
Increase sales on depop by getting/encouraging Reviews!
Reviews are super important!! If given the choice of a shop with a 4-star rating or one with a 5-star rating, which are you choosing? 5 stars of course!
Your potential customers on depop are no different here!
Reviews are the best form of social proof on depop, not your following, but how you treated people who bought from you. Customer service is really important ! you need to make sure that you are interacting with people fairly and respectfully. Ship on time and ship the right items ! Giving people good service and selling quality products will encourage them to leave you positive reviews on depop. Needless to say, doing the opposite will not get you very far.
Even after providing the best service you possibly could, some of depop buyers will not leave reviews. So what do you do?
How to get buyers on depop to leave reviews after making a sale:
The most effective method of getting buyers on depop to leave reviews is to simply ask them! However, you need good timing on your request. You are more likely to get the review if you follow up after they have received their order! So use the shipping time/tracking to estimate when you should be reaching out to them. Yes, it's a bit manual….but if you need those reviews (which you do, as depop's algorithm factors that into your search rank!) then you need to get to it! especially if you are just starting out on depop.
Some automation tools for depop such as a depop bot can help you leave feedback to previous buyers in one click!
You can also try to incentivize reviews indirectly by including a thank you note with each delivery or maybe even a potential discount for returning customers!
Take depop seriously and the sales will come!
The sooner you treat selling on depop like a genuine business the faster you'll make more sales on the platform. Like any other business out there selling on depop requires you to be very consistent. After all, rome wasn't built in a day. Make sure you set out some time every single day to work to improve your depop shop! Even if it is just 5 minutes to refresh/bump some of your listings, or to follow a few people on the app. Consistency is key to watching your sales on depop steadily grow! Starting today is better than never starting.
Optimize your listings for the depop algorithm
The depop algoritm takes into account SEVERAL attributes of your listings in order to place them higher in search, as we've mentioned previously! TOP OF SEARCH === MORE SALES. We've written and in-depth article about the depop algorithm here. The gist of this post is that you need to:
Keep your posts updated on depop
Keep your descriptions to the point and your first 3 words matching the keyword you are trying to rank for!
Stay active ! (Remain active on the app and engage with other sellers/buyers)
Set the right price for your products, make sure to take fees into account. You can do so with the depop fee calculator
We recommend giving our post on the depop algorithm a read to have a clearer understanding.
Increase your odds of making sales by cross-listing from depop to other platforms
A good tip for making more sales is cross-listing/crossposting from depop to other marketplaces! While this isn't a direct way to increase your depop sales, it definitely increases your income in general as a reseller! There are many create tools to do this automatically, an example is the tool Crosslister that you can use for free.
Consider selling on marketplaces such as vinted, ebay, facebook marketplace etc. However, you should know that different marketplaces have different trends for what sells well! Depop focuses on trendy and unique items but other marketplaces can be different. It's best to do some research before choosing a platform to cross-list/cross-post to. You can use our post on alternatives to depop to help you make the decision of where to list on.
Here's how you can show that you sell on other platforms:
First off, you absolutely cannot send buyers on depop a message to take outside payments, this is against the tos of depop and could get you banned. What you can do is utilize a biolink service like linktree and add your shop links to the page.
Afterwards you can put the biolink url given by the service as your website url on depop. This is allowed as you are not directly diverting a user that's about to buy something away from depop's platform.
Bonus Tip: Use a Depop Bot to automate some of the work! (Like the Depop Bot by SellerAider)
Depop bots are the secret sauce to hyper-growth for many stores on depop. We wrote an entire article on depop bots but long story short almost all of the things we just mentioned can be automated with the press of a button by using a depop bot ! they automate all the repetitive actions needed to quicken all the things we mentioned previously. Depop bots automate actions like refreshing your depop items, following users, messaging likers and bulk messaging your followers.
Virtual assistants are another avenue but they are humans and are far more expensive than any depop bot would ever be monthly! A depop bot is one of the best investments to grow your depop shop and save time!
Want to stay updated?
You can find some depop tips here and by signing up to our mailing list:
Sign up to our mailing list where we share information that helps depop sellers