The Only Bot for Poshmark You'll Ever Need.
Save Time. Make Money. Automate Your Closet
Poshmark is a registered trademark of Poshmark, Inc. SellerAider is not affiliated with, endorsed by, sponsored by or otherwise related to Poshmark, Inc. or any of its affiliates or subsidiaries.
Supports: U.K 🇬🇧, U.S🇺🇸, C.A🇨🇦 & More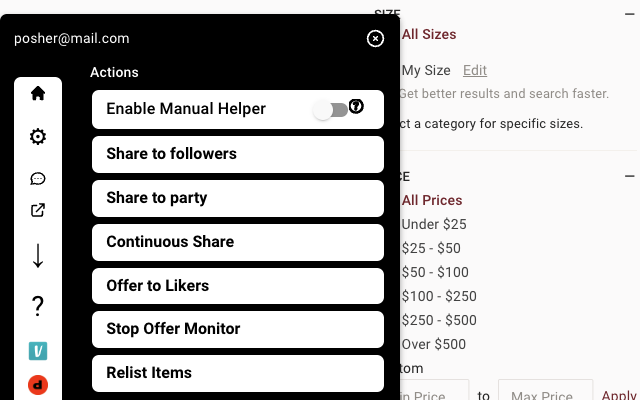 The Best Bot to Automate Your Poshmark Closet !
Do More. In Less Time. With The Bot for Poshmark.
Share Your Listings in One Click!
You can use our poshmark bot to share your listings to your followers, party and more! Spend more time focused on your shop not on time wasting actions!
Automatically share your closet
Continuously share your closet
Send Offers Automatically!
With our poshmark bot you can follow up with likers instantly by sending offers.
Reaching out to likers with offers is the best way to grow your sales on the platform (outside of sharing). 
You can use our poshmark bot to send custom offers to likers of your listings at the perfect time. Here's what it can do:
Send custom offers to likers specific products you select

Detect new likes

automatically and send offers. 
With our poshmark bot you have the option to carry out manual actions a lot faster. Our bot includes features that speed up actions that are being carried out manually. With our poshmark bot, you can be compliant with the poshmark terms without being slow!
Automatically select all checkboxes in Bulk Listing Actions 
Automatic scrolling
Automatically move cursor to share faster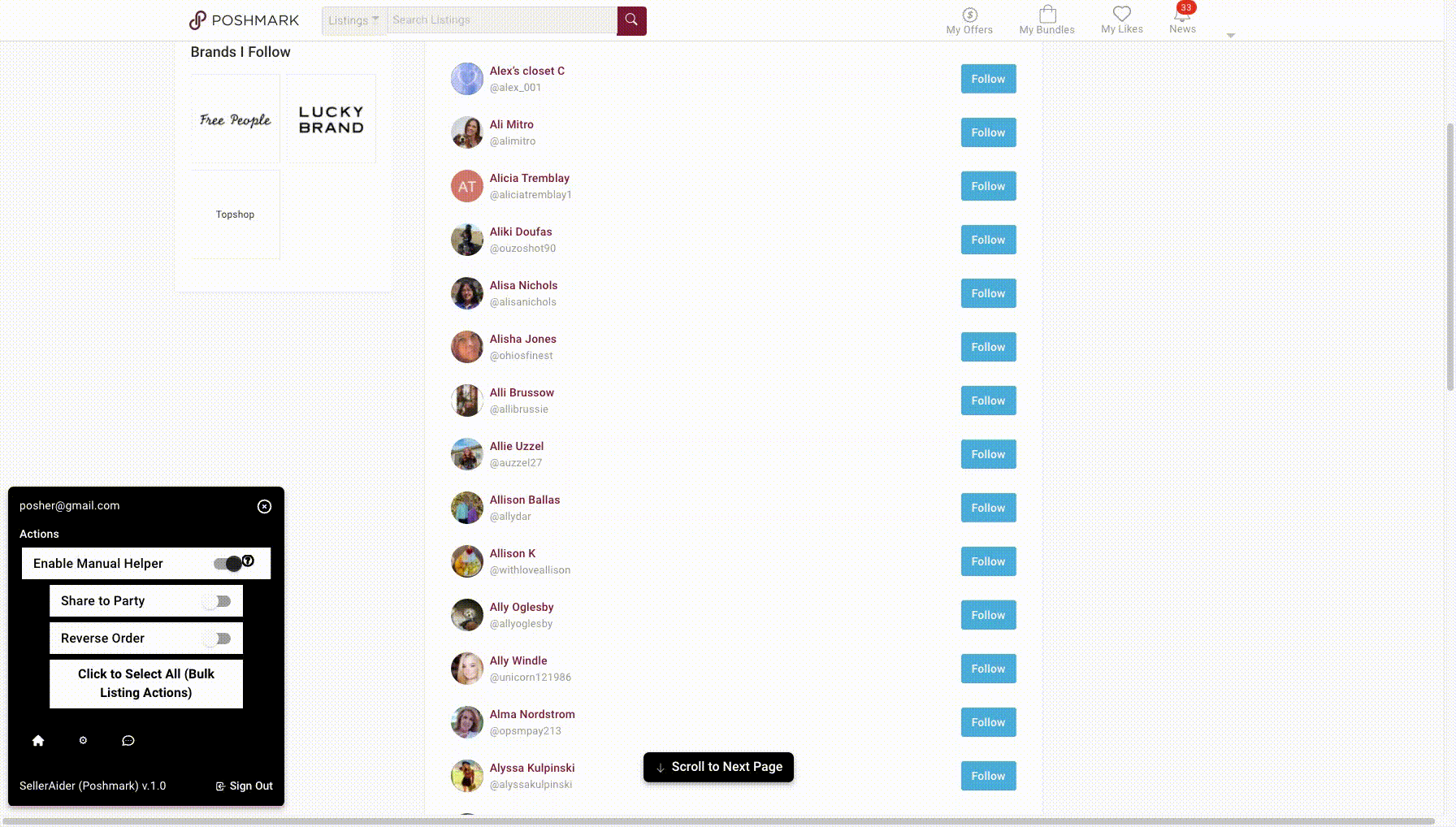 Create copies of your existing listings and delete listings in just a few clicks with our poshmark bot.
Relisting is a great way to give your listings and extra boost in poshmark search! 
Our poshmark bot will automatically preserve the look of your closet! We have settings that allow you to customize how the tool shares your listings
Grow your followers on poshmark and boost engagement by using our bot's following and unfollow features. 
Follow a User's followers
Follow a User's following
Unfollow users you follow 
USE THE BEST BOT! FOR FREE, NO CARD NEEDED