The Only Bot for Depop You'll Ever Need.
Save Time. Make Money. Automate Your Sales on Depop.
Depop is a registered trademark of Depop, Ltd. SellerAider is not affiliated with, endorsed by, sponsored by or otherwise related to Depop, Ltd. or any of its affiliates or subsidiaries.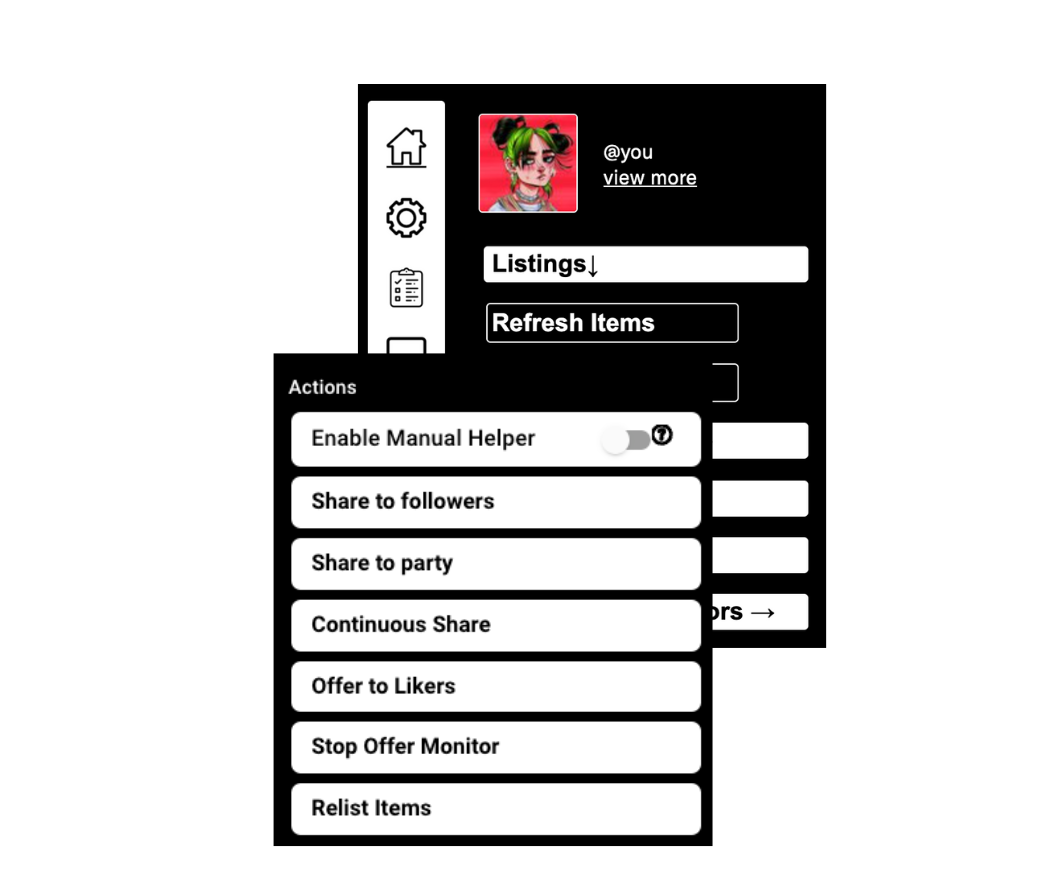 Our bot is the #1 tool with features such as refreshing listings, auto following, auto unfollowing, liking products , bulk messaging & more! All at the press of a button directly in your browser ! NO PASSWORDS NEEDED.
Listen to Our Grow Bot Users 👇
Best extension for all Depop users. This product allows you to refresh listings, follow users, and like products automatically with a click of the button! There is an auto-refresh that refreshes your listings every 20 minutes to ensure exposure. My shop went from ranking #1880 to ranked in the top #500 depop users within a month of using! This extension has made me thousands of dollars, and you absolutely will not regret purchasing this product!
I just started using this last week but it has already saved me so much time. It's super affordable and has 24/7 chat support (I haven't had any issues with it but its always nice to know it's available). I don't know how i survived without it honestly, it's already saved me hours which I've been able to put back into my shop by listing new items. I'm so glad I found this.
Couldn't be happier ! I've gained thousands of followers within a few weeks and made a good amount of sales, not something that would be possible without this. Affordable & great customer service too when I was just starting out 🙂 Recommended to everyone I know who has depop! You won't be disappointed. x
Do More. In Less Time. With The Best Bot for Depop
Increase sales with Refresh Items
Automatically refresh your listings in one click with Grow Depop bot! not thousands of clicks! Easily get your depop listings back to the top of depop's search every day and increase your sales ! You can use this "depop bot" tool to schedule an interval to refresh your items. Refresh your depop listings effectively!
Gain more impressions, with Auto Follow
Auto follow users right in your chrome browser! Our bot for depop also allows you to:
Follow users that a user in following
Follow their followers.
Follow product likers 
Follow buyers/reviewers
Polish your audience, with Auto Unfollow
Automate the process of unfollowing people on depop with our bot. Don't want to unfollow someone ? You can whitelist them from being unfollowed. 
Boost Visibility with Relist & Delist
Automatically relist and delist your items in one click! Use our tool to Optimize your depop shop's search visibility in addition to refreshing. 
Stay Organized, with Auto - Rearrange
Don't you hate it when you work so hard on your theme and suddenly it gets ruined ? Use our bot to keep your shops theme in order with the automatic re-arrage & save layout feature. You are one click away from perfect organization !
Send Offers, with Bulk Messaging.
Send messages from your computer to highly targeted people on depop easily! You can message people individually or message multiple people. Message your followers or past buyers about offers. Reach out to people who have liked your products automatically. 
Get Noticed! by auto liking users products.
Our bot can help you automatically like all posts on a user's store on depop. Just navigate to their profile and like away!
Get Insights with a Fee Calculator
Many depop sellers know that depop charges a 10% fee on the total sale price. However there are other factors to take into account. Calculate fees automatically with our tool for depop and  get a better  understanding of your profits.
USE THE BEST GROW BOT FOR DEPOP! FOR FREE, NO CARD NEEDED