A Vinted Bot that Boosts Your Sales & Saves You Time
Save Time. Make Money. Automate Your Vinted Shop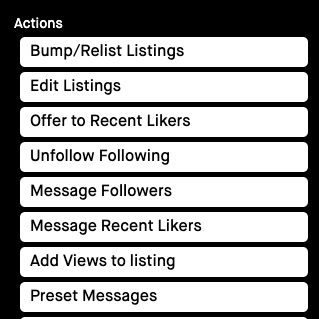 The Best Vinted Bot/Vinted Automation tool on the market
Do More. In Less Time. With The Best Vinted Bot.
Bumping is the key to sales on vinted. You can use our vinted bot to automatically bump your listings without having to pay an additional fee to vinted. Our app does this by automatically creating a new copy of your listing and uploading it on vinted. This means that you are able to get more eyes on your listings by having them at the top of search!
Boost Sales with Automatic Offers & Messages to Likers
Sending good offers is key to closing sales on vinted, yet it takes so much time. You can use our vinted bot to increase your sales by automatically sending offers to users that have liked your listing. Notify interested buyers and get negotiations started in one click! 
Increase your engagement with Automatic Following, Liking & More
Engagement is the key to a successful vinted shop. More engagement means you will get more sales and have more potential buyers trust your profile. Before you'd have to do this all manually. Now you can increase engagement in one click. Our vinted bot has several features to help you automatically boost your engagement
Automatically follow and unfollow users
Automatically like posts on another users shop 
Bulk Edit Your Listings and Grow Your Income!
Need to update many listings on vinted? Maybe you are running a sale or are simply trying to adjust your pricing. With our vinted bot you can do this automatically!
At times potential buyers are notified when you edit your listings and reduce the price. This means more eyes on your listings and more sales. Use our vinted bot to:
Automatically Increase/Decrease the price on many vinted listings at once
Connect With Your Audience with Automatic Messaging
If you want to close a sale on vinted you need to communicate with potential customers. Our vinted bot allows you to put your customer communication on autopilot. 
Message users that have liked your listings recently
Message your followers (for promotions etc.)
Create message templates/presets for easy responses
Add Views to Your Listings
No need to wait for your view count on vinted to go up. With our tool you can add views to your vinted listings in one click. 
Boost the chances of making a sale by increasing the view count on several listings at once.
USE THE BEST VINTED BOT! FOR FREE, NO CARD NEEDED