Many sellers on Poshmark you see about are typically regular people selling items that they used to own or that they sourced second-hand. However, there are other opportunities available to sellers on the platform. One opportunity is opening a Poshmark Boutique. In this article, we'll discuss a bit about Poshmark boutiques, how to open one and if they are worth your time at all.
Make sure to read to the end and we'll share the best way to increase sales on your listings! If you are impatient (click here)
What is a poshmark boutique ?
A Poshmark boutique is a special kind of listing that indicates that the listing has been:
Sourced wholesale or directly from a distributor
Is on public sale for the frist time (so is new)
Boutique items are tagged as such in search and Poshmark buyers can filter for them as well.
Here is how this is different from simply marking your clothes on Poshmark as new with tags:
On Poshmark anybody can mark a listing as new with tags but in order for a listing to be marked as boutique and get the special boutique tag you've probably seen around, they need to go through boutique certification.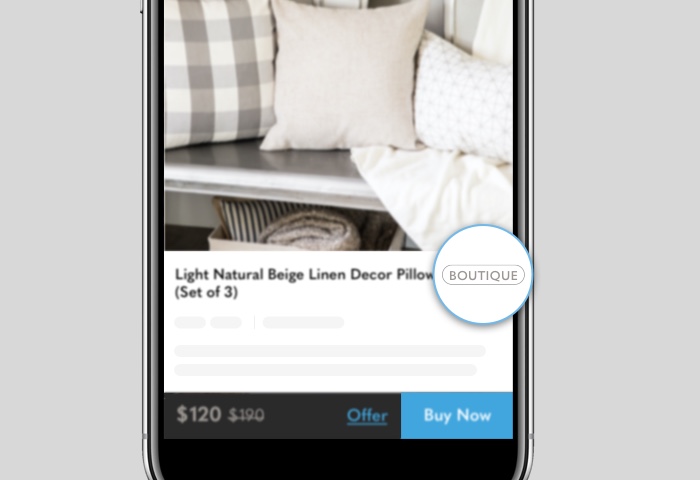 Poshmark Boutique Certification
The mention of certification sounds quite scary, doesn't it? You are probably thinking about what kind of paperwork you would need to submit in order to qualify for listing boutique items on Poshmark. Well, we've got some good news the Poshmark boutique certification process is as simple as complying with a few of the requirements that Poshmark has set out for boutique listings. The best part is that it is completely free.
The requirements for boutique listings are as follows:
The item in your boutique listing must be purchased wholesale or from a distributor.
Boutique certification requires you to get your items either wholesale or from a brand/distributor.
The implication here that should be mentioned is that in order to comply with the boutique certification requirements the item in your boutique listing must not be sourced from retail. If you are typically used to selling stuff you previously owned or bought from an outlet or mall at some point in your life, you will need to adjust your sourcing mindset in order to comply with these rules.
We will go into more detail about where to source items from soon.
The item in your boutique listing must be new with tags AND be sold to the public for the first time.
Boutique listings are intended to be completely new and still have their tags on them, so the popular preloved/second-hand listing on poshmark will not cut it. Items that are new with tags and packaging still need to comply with the previous requirement.
How to Start A Boutique on Poshmark
Let's dive into how you can start a boutique on Poshmark.
Complete Boutique Certicification
In order to start a boutique on Poshmark, you need to complete the boutique certification. As we went over, it's not awfully complicated but simply requires you to agree to the terms set out.
You can complete your certification in the following ways
Using the mobile app
First, you go to your profile page in the mobile app. Second, you click on 'My Seller Tools'. Third, Click 'Complete Boutique'. Lastly, click 'Get Started'
Using the website on your computer
First, you go to your account settings. Second, you click on 'Boutique Certification'. Lastly, click 'Get Started'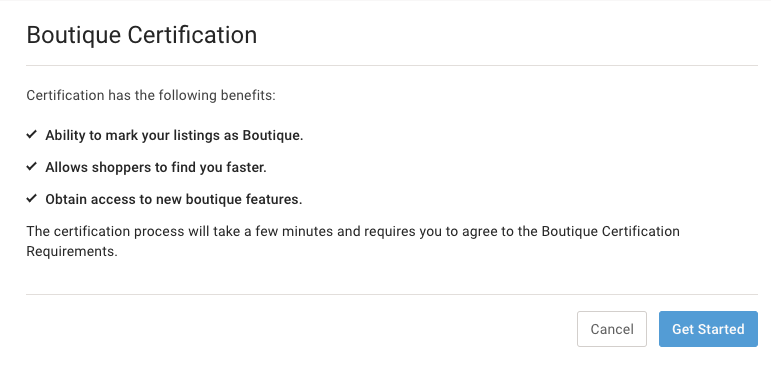 How to List a Boutique item on Poshmark
Once you are certified, there is no special section of the app/website you need to visit in order to list a boutique item. You can list boutique items on Poshmark by going to the form you use to create a regular listing. Honestly! it's that simple. You can make an item boutique at creation or when editing it.
But here are a few more details you need to fill out about your listing in order to get that special 'Boutique' tag:
You will have to navigate to the new with tags section and make sure your item is marked as new. You should now also select YES under 'Add this item to your boutique'.
Make sure that your photos are original and you are not re-using stock photos from whatever distributor you sourced your boutique items from, this is a requirement by Poshmark!
Poshmark Boutique vs Closet

Although it can be a bit confusing let's get this out of the way:
You don't have to choose between having boutique items or having a closet. A Poshmark boutique is all about the features of the listing rather than your actual shop as a whole. Remember, a boutique listing is simply a listing marked as one in the app by a seller with boutique certification.
Having boutique items allows you (and potential buyers) to filter your shop by your boutique and regular listings. It's also important to note that even if a listing qualifies as "boutique" you absolutely do not have to mark it as such!
Where to buy wholesale items for poshmark boutique ?
Now that you understand what a Poshmark boutique is and how to start one. Let's move on to the next issue that you may face:
Where do you get 'boutique' items to sell?
You have two options here:
Wholesale Market
You can source your boutique items on the Poshmark wholesale market. This is where Poshmark approved wholesale partners sell their inventory to sellers, this makes it a lot easier for sellers to source inventory.
In order to access the Wholesale market, there are some boxes you need to tick. You need to have more than ten sales and have a rating higher than 4.5!
While it may seem unfair or exclusionary to new sellers, there is likely a reason why Poshmark has set these limitations in place.
If you do meet the criteria you should 100% check out the wholesale market. You can find the wholesale market by going to the market switcher and selecting the Wholesale department.
HOWEVER
We highly recommend you perform some profit margin calculations if you opt to go with the wholesale market. The prices on the wholesale market compared to other sourcing options could prove to be too high for you to make your target profits.
Purchasing from the Poshmark wholesale market does not require you to get a wholesale license which can make this an attractive choice for some sellers.
If you do not meet the requirements to access the wholesale market then you can either:
Email poshmark and let them know why you'd like access (Source)
Wait until you meet the criteria
Try the next option below
External Supplier
Another option is to use an external supplier. The benefit of doing this is that you get a lot more products to choose from at potentially better prices compared to using the wholesale market on Poshmark.
You can opt to source your products from suppliers on platforms like Alibaba or SuppliedShop.
Is a Poshmark Boutique Worth It ?
Okay, it's time to put this all together and assess whether a Poshmark boutique is worth it.
Pros of Poshmark Boutiques
We went on about having the "special boutique tag" throughout this article, however, there is a benefit to having this. The benefit is that your listings have a chance to stand out a little bit more visually, not everyone is on Poshmark to get used items you know! There are millions of buyers on the platform after all.
Beyond the superficial boutique tag, another benefit is that you get a chance to take part in events that are intended for boutique listings only such as boutique posh parties. This may seem insignificant but your listings are competing against several others so you do need as much visibility as you can get, parties give your items an increased audience and probability of getting shared.
A Poshmark boutique exposes you to opportunities for sourcing and selling cheaper inventory. This can definitely be worth it if you are able to source the right items that not only sell but are priced low enough for you to make the profit you desire.
Cons of Poshmark Boutiques
Poshmark boutiques require a bit of upfront investment when purchasing wholesale inventory. There is always a risk of purchasing lots of inventory that does not sell. While this risk exists with non-boutique items as well, if sourcing from the wholesale market it's a lot easier to make an impulse bulk buy compared to going to a thrift store.
Some sellers with Poshmark boutiques source their inventory from places offering the lowest prices possible in order to get great profit margins. The problem with this is that some of these items tend to be of poor quality and as a result can affect some customers' perceptions of boutique listings.
Why does this matter?
It matters because this means that the boutique tag could have you miss out on sales from buyers who have had negative experiences purchasing poor-quality boutique listings.
If you are hoping for boutique listings to skyrocket your sales, we hate to tell you that the reality of the situation is a lot less simple! Boutiques on their own do not increase your sales. Having more inventory does increase the probability something will sell but this isn't limited to boutiques.
The Best Way to Increase Sales
There are 2 sure-fire ways to increase your sales and we'll let you know how to do them automatically.
Crosslist to other marketplaces: Crosslisting allows you to increase the reach of your products, if sales on one platform are slow you can make up for it on another. This is the best way to make sustainable sales as an online seller. Moving items between marketplaces is a lot easier with our crosslisting app. All you have to do is select the items then crosslist! and like magic your listings will be copied between several marketplaces.
Share your listings: Sharing is king on Poshmark when it comes to increasing sales but it takes tons of time. Our Poshmark automation tool will help you share your listings (and a lot more) faster in one click, in a Poshmark compliant way through Bulk listing actions.
Join 3k+ sellers using tools by SellerAider to increase their sales and save time.