What if we told you that making money doesn't have to be a dreadful process?
Thanks to popular marketplaces like Etsy, launching an ecommerce business that you love can be a profitable means of adding to your wallet!
The platform welcomes sellers of various niches to showcase their work (and talent!) to millions of shoppers looking for their next purchase.
However, choosing the right Etsy shop idea is easier said than done.
Etsy is a competitive marketplace with 4.36 million active sellers, making it difficult to become a top seller if you don't know your way around selling.
Not to worry!
We have done all the research for you and have comprised a list of the best Etsy shop ideas to start in 2023!
What Do I Need to Know About Etsy?
The first step to becoming a successful Etsy seller is knowing why Etsy is the best platform to sell on.
This online marketplace is best known for its huge selection of handcrafted unique and vintage items. In other words, it is a haven for independent creators looking to meet buyers who truly appreciate the magic of small businesses!
If your talents meet this criteria, why wouldn't you choose the 4th fastest growing ecommerce company in the world?
With no end in sight, Etsy is a worldwide platform that has been downloaded more than 80 million times!
In fact, this is one of the best moments to consider launching your Etsy shop.
The Top 21 Etsy Shop Ideas
Vintage Clothing
The global resale market is expected to nearly double by 2027.
This is great news for clothing resellers, as opting for second-hand clothing has become an increasingly popular choice.
As a matter of fact, the global second-hand apparel market is growing 3x faster than the global apparel market overall.
The term 'vintage clothing' generates over 1.5 million results on Etsy, and it is defined as any piece of clothing that is over 20 years old.
Whether you are looking to declutter your closet or resell as a side-hustle, becoming a vintage fashion reseller is a profitable Etsy shop idea.
How can I stand out?
Vintage clothing is one of the top selling categories on Etsy. This means that you will have to compete with other Etsy shops that are looking to sell similar products.
Here's how you can stand out from the crowd:
While vintage items are hot selling items on Etsy, you need to remember so are custom products.
Rather than simply reselling a retro jacket, why not offer customization to your potential buyers?
Hand painted clothing is a great way to make a great first impression and increase traffic to your shop.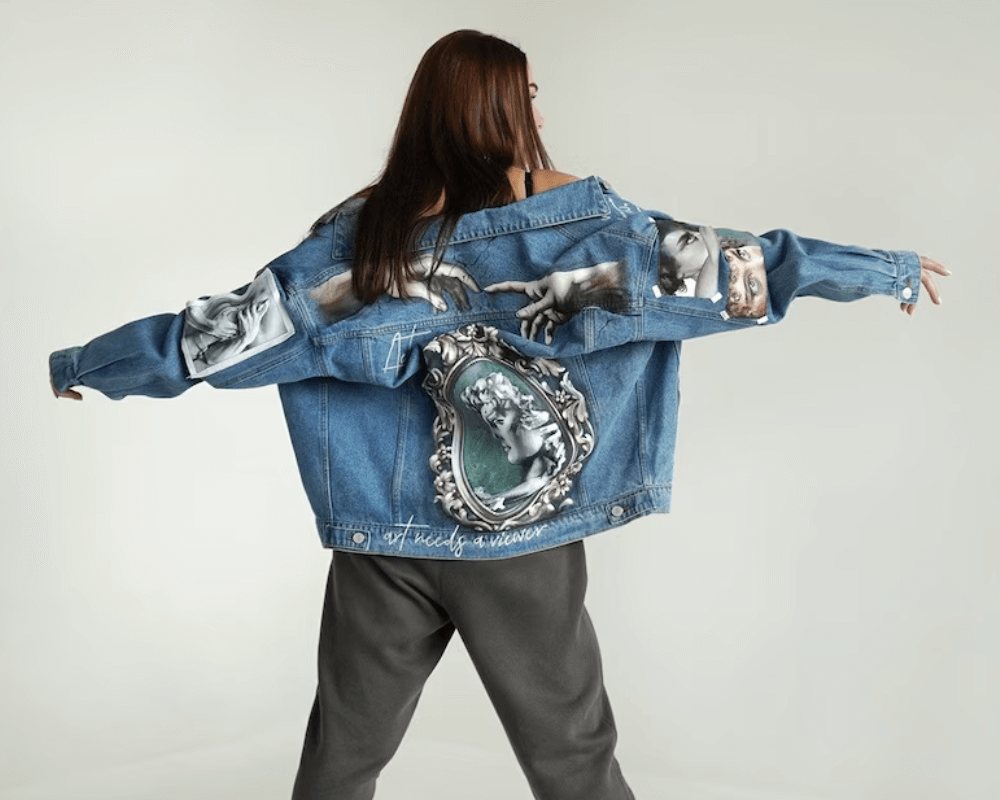 Source: AeternumArtStudio
Vintage clothing consists of hundreds of subcategories; varying from brand, condition, year of production and other unique characteristics.
Market research is essential if you want to know which subcategory is the most profitable. This is information that can help you decide on a product that is both cost-effective and easy to sell.
One way you can begin your product research is by taking a look at the 'Trending Now' page, where you can see the latest popular items on the platform.
Similarly, you can look up the top sellers in your category of interest and observe any patterns between their products.
Consider: Why are these at the top? What makes them so popular?
This could be the brand, color, type of apparel etc.
Knowing what your potential shoppers are looking for is a great way to decide what to sell.
Similar to market research, incorporating Search Engine Optimization (SEO) is a great way to boost traffic to your shop.
According to Etsy's Seller Handbook, search results appear based on relevance and query.
This means that the keywords you choose to use in your tags, titles and product descriptions can be the difference between a side-hustle to full-time profits.
Again, a way to carry out keyword research is by finding keyword patterns across the listings made by top sellers. After all, they are star sellers for a reason!
If manual research isn't your strong suit, you can make use of eRank.
This is a free Etsy SEO tool that carries out keyword research, tracks your competitors and consistently stays on top of the latest trends for you.
This way, you can always stay ahead of the game by knowing the right keywords to incorporate into your Etsy shop.
Jewelry
Want to know a cool fun fact?
The Etsy shop with the highest number of sales is in fact a jewelry seller called CaitlynMinimalist.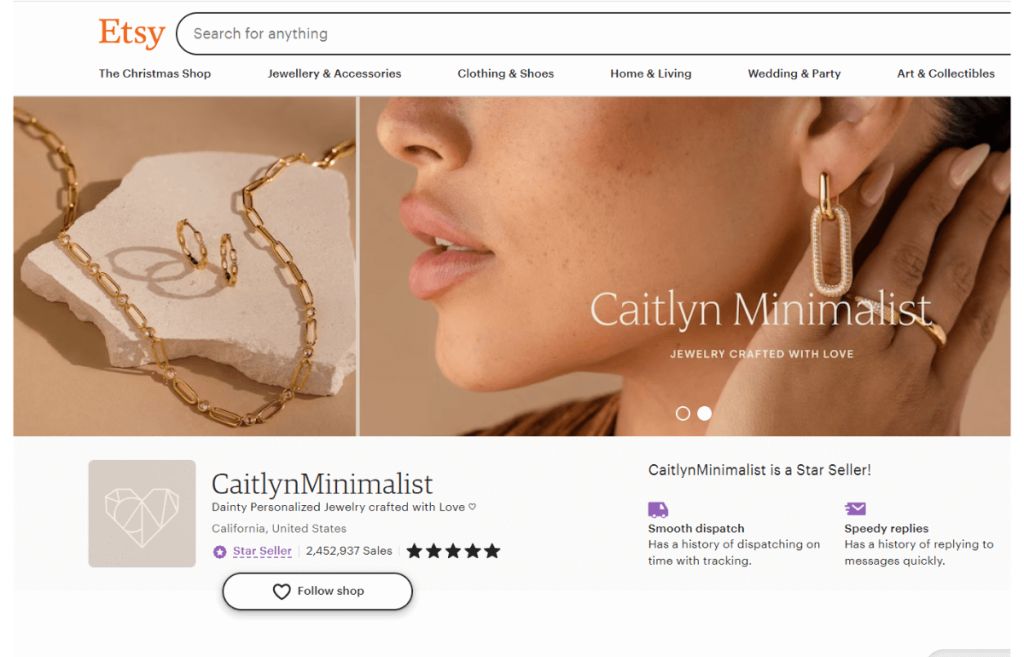 Source: CaitlynMinimalist
With over 2.4 million sales, this seller offers a variety of jewelry pieces, including personalized options for all occasions.
Jewelry & Accessories has its own category on the popular platform, making it a great choice for those looking for evergreen Etsy shop ideas.
Whether you are on the creative side and opt for making them yourself, or you would rather source from a supplier, this is a relatively easy product to put on sale.
However, just as with apparel, this category comes with higher levels of competition.
This means that in order to stand out, you either need to create uniquely made accessories, or offer a variety of options.
Taking the top seller as an example, some profitable jewelry ideas include:
Personalized name
Personalized gemstone
Personalized initials
Custom photo
Custom city
Birth flower
Zodiac sign
Prioritizing individuality will boost traffic dramatically; especially when paired with the right keywords.
The options are infinite, so don't let the competition scare you away from this Etsy shop idea!
Customized Items
It should come as no surprise that anything customizable will sell faster on Etsy.
Not only will you see more traffic to your shop when you offer a personalization option, but you can also increase your order value for it.
To do this, you can simply turn on Personalization on your listing page. It's that simple!
Etsy buyers love customized options!
These products are usually found under the 'Personalized Gift Ideas' category and are absolutely adored due to their sense of thoughtfulness and expression of love.
Furthermore, they are a stable source of income, as their versatile nature allows them to be used for most occasions; whether it is for birthdays, anniversaries, weddings, or any other special event.
As seen above, personalized options can also be offered for almost any niche, varying from vintage fashion to jewelry options- making them an easy way to generate a greater product value.
LeleKnife is a Best Seller for gifts in the UK.
Their Etsy shop idea? Handmade Damascus steel knives with the option to add engraving on the blade.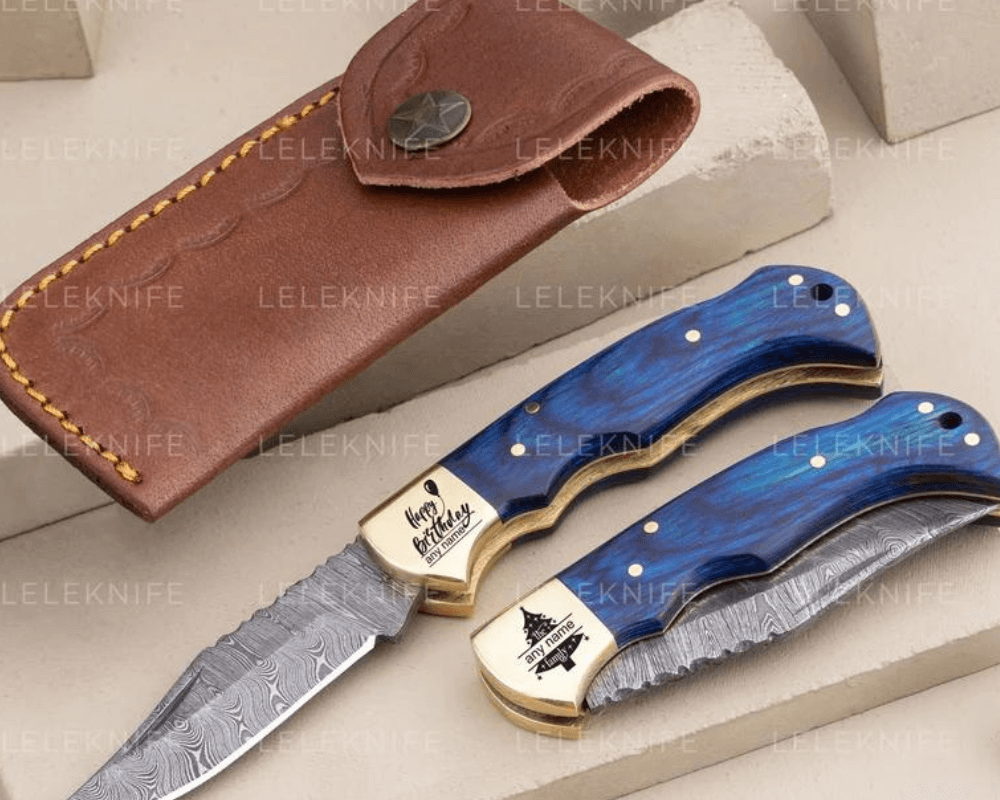 Source: LeleKnife
While their great keywords and consistent 5-star reviews have certainly been a reason for their appearance at the top search results, this is also a great example of a customized item creating more traffic.
Candles
Found under the category of Home Décor, candles make an excellent Etsy shop idea.
Why? Because they are highly versatile!
Whether you handcraft or source them from an external supplier, you can expect great profits from a successful candle business.
Etsy is home to a customer base that loves handmade and artisanal products, making them a sought-after item.
Bonus points if you can opt for eco-friendly materials, which can attract environmentally conscious buyers.
Their low production costs make them a beginner friendly product that can be sold in a diverse array of scents, shapes, designs, and personalization options.
The following candle ideas are perfect for those who are not sure how to make their shop stand out from the crowd:
Crystal-Infused Candles
Custom Zodiac Candles
Candle Terrariums
Personalized Photo Candles
Baby Clothing
Etsy has its own category for baby clothing – Kids and Baby Clothing.
So, what are you waiting for?
When you can get a dedicated niche customer base and a high in demand product, you go for it!
The options are endless; from personalized baby clothing to a variety of colors and designs, this is a great Etsy shop idea.
Opting for organic cotton and other hypoallergenic options is a good way to establish yourself as a sustainable option for new parents.
However, it is important to keep in mind that Etsy has several house rules when it comes to children's products.
i.e. Etsy prohibits upper-body outerwear containing drawstrings intended for children size/age 14 and under. This is inclusive of items such as hoodies, jumpers, jackets, raincoats, capes, and ponchos. Permitted alternatives to drawstrings include press studs, buttons, hook and loop fasteners, and elastic.
Make sure to carefully read Etsy's Seller Handbook on Children's Apparel.
Stickers
This is an evergreen product that is guaranteed to timelessly appeal to a broad demographic across the globe.
They are also super easy to sell, as they are relatively inexpensive to produce and affordable to ship.
Whether you create sticker designs yourself, source them, or hire a designer, this Etsy shop idea is guaranteed to have long-term demand.
Not only are stickers forever trendy, but they are also reusable; meaning that shoppers use them on laptops, water bottles, walls, and more; creating potential for repeat purchases.
Repeat customers are more likely to yield positive reviews, helping you become a Best Seller on Etsy!
Wall Art
Etsy is known as the best platform for artists and creators to showcase their artistic talents, making it an ideal place to sell various forms of art.
Despite the infinite personalization options, art encompasses a wide range of themes, styles, and mediums. Thus, whatever your artistic tendencies are, Etsy has got you covered!
The term 'Etsy Wall Art' receives 6,500 monthly global searches on Google, so if this category sounds like something you see yourself in, it is certainly a worthwhile Etsy shop idea to consider.
Digital printable art, custom portraits, inspirational quotes and custom neon signs are all popular items that sell well on the platform.
Digital Printable Templates
Digital templates are on evergreen demand, making them a staple product if you are looking for consistent sales.
You can easily create those templates with Canva, PicMonkey, PDF Escape or even Microsoft Word, PowerPoint, and Excel.
Since digital installation will be offered, you can completely avoid the shipping hassles that come with physical products, making your business more efficient.
Popular templates to sell include planners, webinar slides and social media.
BONUS: Selling digital products automatically makes you an eco-friendly business!
Pottery
Just like with wall art, pottery is a handmade and artisanal product that is guaranteed to receive appreciation from the Etsy community.
Pottery items are often unique and can even be easily customized to buyers' specific preferences.
Whether your talents lie within sculpture, ceramics, or functional pottery, this category allows for artists to showcase their creative side- and make profit from it!
Boho style mugs, vases and bowls are all bestsellers for home décor and gift giving.
Pet supplies
This niche is one filled with passion for our furry little friends.
One thing the Etsy community loves is emotion!
It should then come as no surprise that this product category is particularly popular on the marketplace.
Pet collars, accessories, feeding supplies, carriers, and furniture all make excellent options for your Etsy shop.
Bonus points if you opt for selling handmade products; a quality many pet owners will appreciate.
After all, how can you say no to this adorable neck warmer?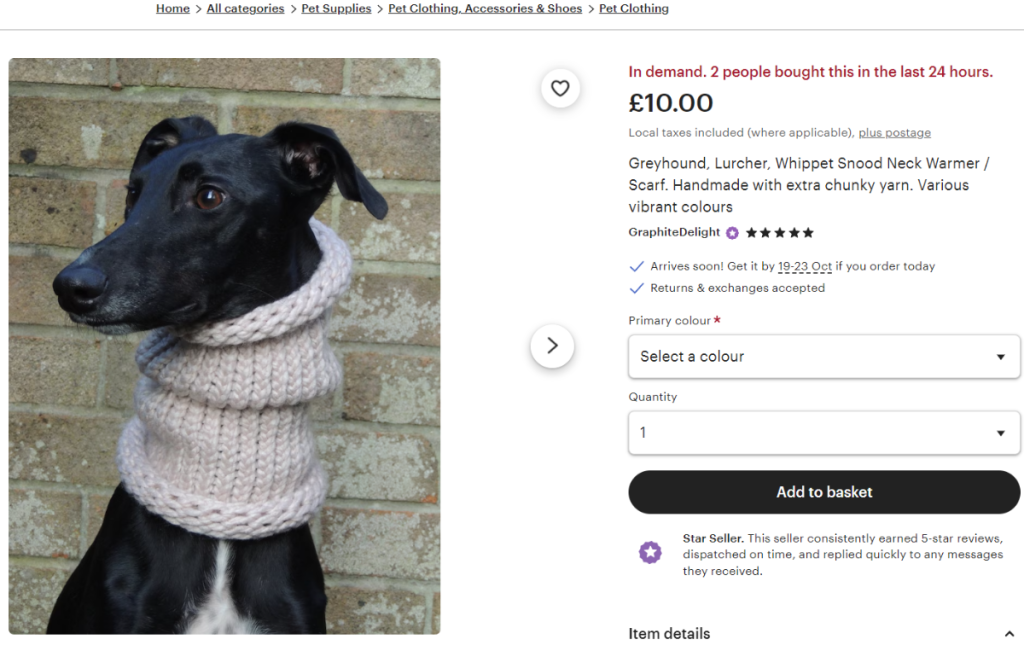 Source: GraphiteDelight
Sewing Patterns
Creating digital sewing patterns is a cost-effective way to make decent profits, whilst helping others feel more confident with sewing.
Many fans of the hobby struggle with making patterns, which is why they can often be found browsing for downloadable patterns to assist them on their learning journey.
Not only is this a rewarding Etsy shop idea, but also a smart one!
The same pattern can be sold repeatedly, offering a source of passive income.
So, why not share your skills with Etsy's DIY sewers and crafters?
Scalable Vector Graphics (SVG) Files
SVG is a file format designed for two-dimensional vector graphics.
As they don't rely on fixed pixels, SVGs are capable of retaining image quality at all resolutions, making them great for logo designs, diagrams, animated elements and graphs.
On Etsy, these digital files are usually downloaded to be used on t-shirts, mugs and other customizable items.
As with any digital file, the upfront costs are low, and the profits can be high- especially if your customers are small businesses looking to purchase your SVGs in bulk!
Printable Party Invitations
Parties are and will always be in!
Not everyone has the time or skill to create their own party invitations, thus this product category belongs to a very popular niche on the marketplace.
With almost two million monthly searches, birthday parties particularly receive a lot of attention.
However, expanding to other areas such as weddings and baby showers is a great way to appear on multiple searches.
Handmade Skincare
If you have a passion for natural and organic beauty, selling your own handmade skincare products can make an excellent Etsy shop idea.
The global natural skin care products market grew from $17.78 billion in 2022 to $19.37 billion in 2023.
This growing popularity is great news for those wanting to introduce their cosmetics to a global market of natural ingredient lovers.
According to Etsy's Seller Handbook, the US federal laws state that cosmetic labeling should include:
Ingredient lists
Identity/description of the product
The name and contact information of the manufacturer, packager, or distributor
Net contents
Country of origin
Any required warnings (see additional information below)
Active ingredients for cosmetics that are also drugs (see additional information below)
However, it is always important to check the laws and prohibitions of your own country before attempting to sell handmade cosmetic products, as they tend to differ from nation to nation.
Make sure to take a look at Pinterest for recipe ideas!
Planners and Journals
Selling digital planners in a PDF format for specific niche markets can be a profitable Etsy shop idea.
In fact, you could make between $50 to $5,000 per month selling various types of planners.
We all need a planner or journal at some point in our lives, so it all makes sense!
While regular planners are also popular, there's high competition that may make it difficult to get enough sales.
Instead, aim to create niche products like specialized journals and planners for fitness, wellness, affirmations, finance trackers or even pregnancy trackers!
Home Organization Products
With the growing demand for minimalist living, home organization products are a must for decluttering and organizing living spaces.
From organization containers to kitchen labels, targeting a specific niche market within this category can make this a profitable business idea.
For instance, home offices and children's spaces are popular options for specialized organization needs.
Phone Cases
Creating phone cases comes with low production costs, making it ideal for small business owners and start-ups.
Whether you choose to hand make them or outsource, the demand for this product is always there.
However, if you are really looking to impress your potential buyers, opting for handmade and customized options will be a better route for your shop.
Craft Supplies and Kits
This niche is so popular on the platform that Etsy has several articles offering tips on how to sell craft supplies.
In fact, a few of the top sellers cater to this product niche.
Some popular ideas include:
Egg stamps
Scrapbooking kits
Embroidery Kits
Knitting patterns
Woodworking Projects
Woodwork fits well within the niche of handcrafted quality many customers come to Etsy for.
This is the perfect Etsy shop idea for all woodworkers who want to illustrate their artistic skills on a marketplace that will actually appreciate their craftsmanship!
Wine racks, cutting boards and wall shelves all make great options to make profit from.
Seasonal and Holiday Items
Consider selling seasonal products during festive seasons and major holidays, as the high traffic at certain times of the year can be a great opportunity for your shop.
However, don't just stick to major holidays like Christmas, Easter and Valentine's Day.
The key to attracting customers with seasonal gifts all year round is to observe trends in seasonal changes, such as temperature fluctuations, back to school rush, or even promoted viral items across social media.
Tote Bags
For eco-conscious buyers, tote bags are a great sustainable alternative to regular plastic bags- they are super cute too!
They are easy to personalize with Print on Demand services, allowing your customers to self-express through these fashionable pieces.
Can't find a shop idea that feels right?
Find out more: Best Things to Resell
How Can I Stand Out from My Competitors?
The next step to your seller journey is to actually start getting sales.
Be concise with your production descriptions
The best product descriptions take into account the fact that most shoppers will only skim through your listing; thus making it easily readable is a must.
Breaking down the text into bullet points and writing a concise description of the key features and benefits of your product is guaranteed to elevate your product descriptions.
Ask for feedback after a successful sale
According to a report by PowerReviews, 99.9% of buyers read reviews when they are doing online shopping.
Reviews help build credibility– an element that is key to attracting more customers to your shop.
Leaving a review isn't always the first thing buyers think about after a purchase, therefore asking for feedback is crucial to getting those reviews you would have otherwise missed out on.
Crosslist across different marketplaces
Selling on multiple sites at once is one of the best things you can do for your business.
While making a decent profit on Etsy alone is possible, crosslisting your inventory increases the likelihood of your products being seen by a larger audience.
Not only does this improve your chances of getting sales, but it is a great back-up solution for counteracting issues of low performance on one marketplace.
More visibility means a stronger reputation.
Remember, credibility is key for any successful business!
Crosslisting software is your friend when it comes to listing your items across different platforms.
Why? Because they take care of the entire process for you!
Don't believe us?
Crosslister is the best crosslisting software on the market and it does exactly that.
With several features like crosslisting your items to most marketplaces in just a few clicks, and automatically removing listings that have been sold on all platforms, Crosslister dramatically increases your chances of making more sales.
Try Crosslister for FREE by clicking here.
Want to learn more about increasing traffic to your shop?
Find out more: How to Get Sales on Etsy
In Conclusion…
Etsy is a marketplace filled with opportunities for creatives looking to showcase their artistic talents.
While almost anything can be sold on the popular platform, we believe tapping into niche markets is the best way to build a successful business.
Here at SellerAider, we make automation software to help sellers navigate their business journey without having to worry about the time-consuming aspects of selling.
Try out our crosslisting software for FREE and watch your sales grow!
Frequently Asked Questions (FAQs)
What Sells Well on Etsy?
Etsy is renowned for its extensive variety of handcrafted and retro products. Customers from across the globe browse the popular platform for unique items that have been carefully handcrafted. Vintage clothes, as well as arts and crafts are popular product categories.
What is The Most Successful Business on Etsy?
The top Etsy shop belongs to CaitlynMinimalist; a US based seller that sells various types of jewelry; including custom options.
What Niche is Most Profitable on Etsy?
Profitable niches on Etsy include gifts, vintage clothing, art, candles, stickers, craft supplies and kits.
What is the Most Popular Selling Item on Etsy?
The most popular category on Etsy is Gifts, especially seasonal presents based on festive holidays and special days.