Considering using Closet Pilot ? Here's What You NEED to Know.
Not all Poshmark bots are created equal. Selling on Poshmark takes up a lot of time, so you need something that you can truly rely on. So here's what you should consider: The most customizable bot with full automation combined with Poshmark compliant manual helpers. That's SellerAider's Poshmark Bot. The best part is, it's available for free.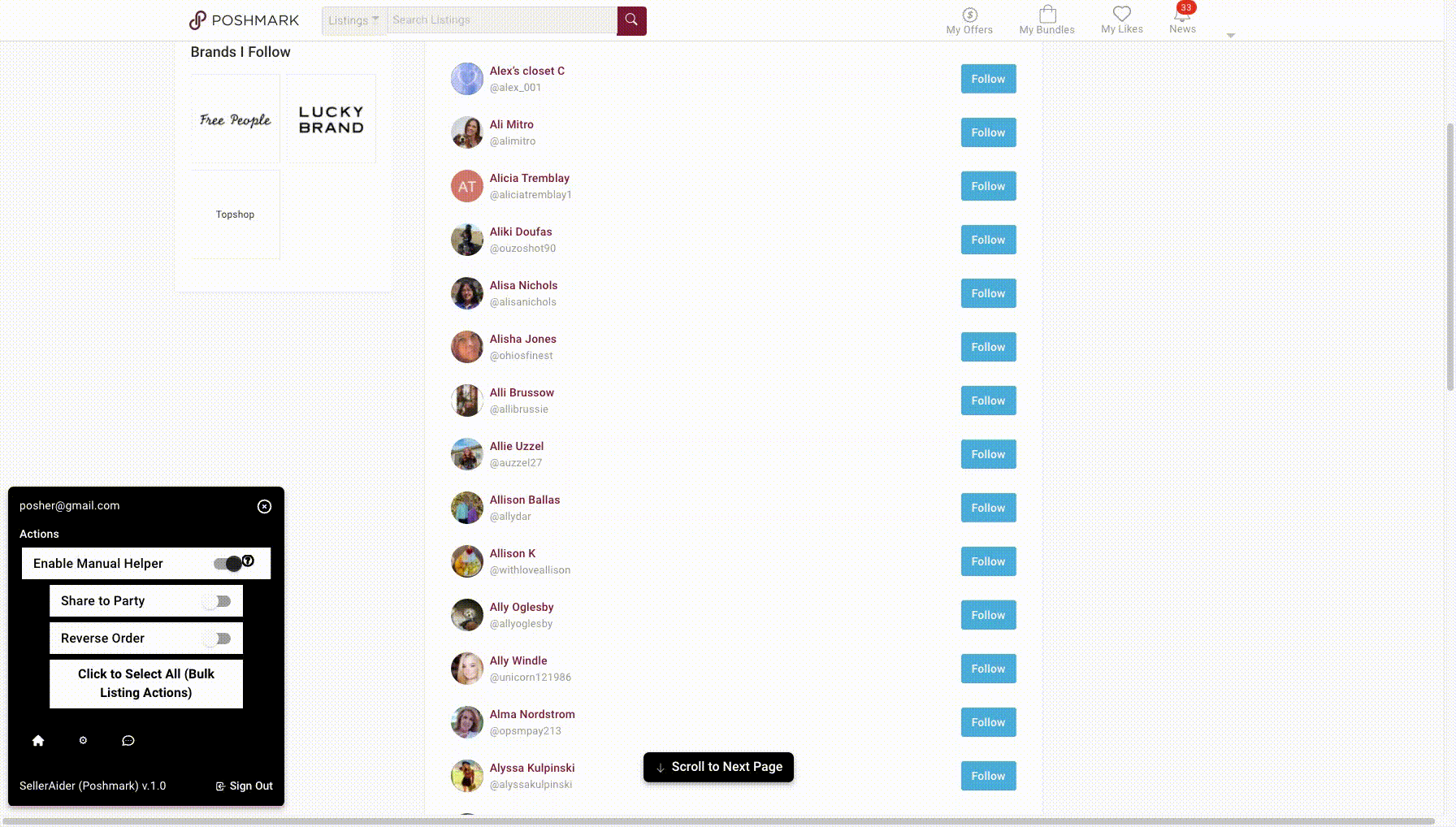 Are you looking to stay poshmark compliant? You should be. We are the only tool that can help you do just that. You've probably heard that Poshmark bots are technically not allowed by Poshmark, this is true. With SellerAider you get to choose just how automated our tool behaves. You can't do this with Closet Pilot. We aren't just talking about speed delays, we take it a step further with Manual Helpers. Our Manual Helpers visually adjust the page and your mouse to speed up the actions you do manually. Your manually following time will be slashed in HALF. Your manual sharing time will be reduced from hours to SECONDS.
Automatically select all bulk listing actions checkboxes
Faster manual following & sharing
Scrolling assistant
It works like magic. Don't believe us? You don't have to. See it with your own eyes.
We get it, you don't want to have yet another tool to pay for. Everyone says time is money and that's 100% correct, but it still would be nice to have more flexibility wouldn't it? Flexibility is so important for all online sellers, it doesn't matter if you are the best Poshmark seller out there or you are just starting your selling journey. Unlike Closet Pilot , we provide different uncapped options for sellers to use our tool completely free! At SellerAider we have a wide range of tools available for your use on our app.
Use for free: Some select features are available completely free and will remain this way.
Bundle with our existing apps: if you are a user of our crosslisting app you can use our Poshmark bot completely free.
Try with no card needed: There's nothing worse than being charged at the end of a trial you didn't use. We do not charge at all for trying out our tool.
Sit back. Relax. Watch Your Poshmark Closet Grow.
You deserve to grow on Poshmark without pouring precious moments of your life into mindless repetitive labour. Growing on Poshmark usually involves SEVERAL minutes to hours per day of your manual effort. We know you can do much better than this with SellerAider. By using our carefully crafted automation tool you can finally take a hands-off approach to your Poshmark growth. You'll be shocked by the amount of free time you have. Put all your free time back into:
DISCLAIMER: SellerAider is NOT affiliated with the product(s) discussed on this page and all trademarks belong to the parties discussed. We provide no guarantees of completeness on the information presented on this page, as it may change overtime. If there are any errors/corrections/omissions in the content you can send over a request to have the content updated.
Join thousands of sellers saving time and making money with tools by SellerAider